NeutrAvidin beads
NeutrAvidin beads, like Streptavidin beads, can immobilize biotin-labeled compounds and antibodies, DNA, etc. and can be used in a wide range of applications.
NeutrAvidin beads may have slight non-specific adsorption from sugar chains. However, since it does not have a RYD sequence, it suppresses non-specific adsorption derived from cell adhesion proteins compared to Streptavidin beads.
※NeutrAvidin(TM) is a trademark of Thermo Fisher Scientific, Inc. and its subsidiaries.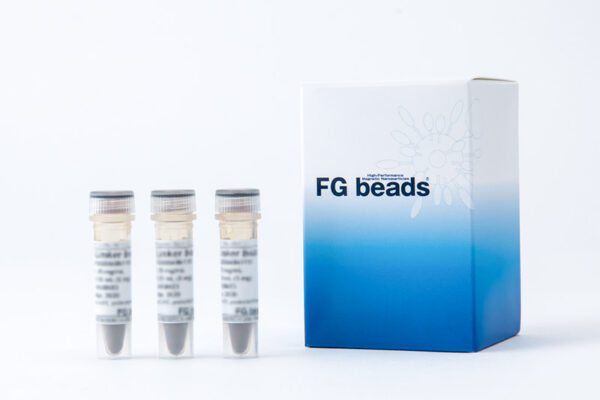 Magnetic beads
The product lineup includes regular FG beads and highly magnetically responsive HM beads.
Beads
FG beads
HM beads
(High Magnetic Response Type)
Code
TAS8848N1171
TAB8848N3171
Price
Please contact us
Storage conditions
2-8℃ (no freezing), protect from light
Storage buffer
10 mM HEPES(pH7.9), 50 mM KCl,
1 mM EDTA, 10% glycerol
10 mM HEPES(pH7.9)
Magnetization
Superparamagnetism (≧10 emu/g)
Superparamagnetism (≧20 emu/g)
Size of beads
180±30 nm
140±20 nm
Concentration
20 mg/ml
Functional groups
NeutrAvidin
Binding ability
≧ 1.0 ug Biotin labeled BSA / mg of beads
Protocol

SDS

Papers /
Technical Information

Related Products

FAQ