For FG beads only
Magnet stand
Magnet Stand is a tube stand for magnetic separation of FG beads. Select the stand according to the amount of liquid to be operated and the number of samples.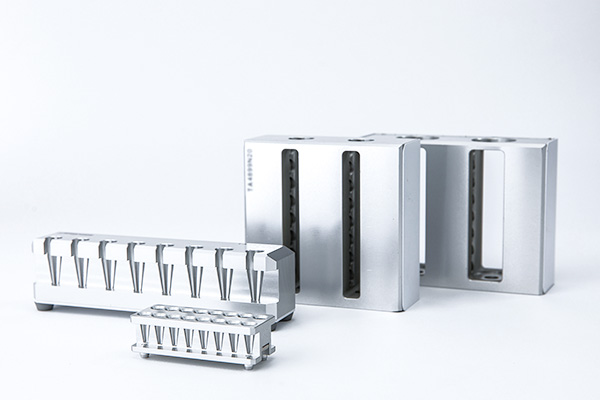 Characteristics of magnet stand for FG beads
Magnetic separation is possible at higher speed than other companies' products
By making the magnets have a unique shape and arrangement, nano-sized magnetic beads can be magnetically separated in a shorter time than other companies' stands, making it possible to shorten the work time.
Magnetic separation at low temperature (4 ℃) is possible
The main body is made of aluminum alloy with good thermal conductivity, and can be quickly cooled to 4 ° C just by placing it on ice. Therefore, it is possible to carry out experiments using proteins that are worried about denaturation with peace of mind.
※Please scroll horizontally.
Code
TAB4899N12
TAB4899N20
TAB4899N30
TAB4899N41
exterior
number of samples
1.5 mL tube×8本
15 mL tube×2本
50 mL tube×2本
PCR tube×16本
Size (mm)
W170×D40×H46
W135×D41×H103
W135×D41×H103
W75×D30×H25
Price
Please contact us
Protocol

SDS

Papers /
Technical Information

Related Products

FAQ