Fluorescent beads
FF beads/ FS beads
FG beads containing fluorescent dye.
There are two types, "FF beads" that have a magnetic material that can be separated magnetically, and "FS beads" that do not have a magnetic material.
There are three types of fluorescent dyes: Europium and 2 types of Cyanine compounds.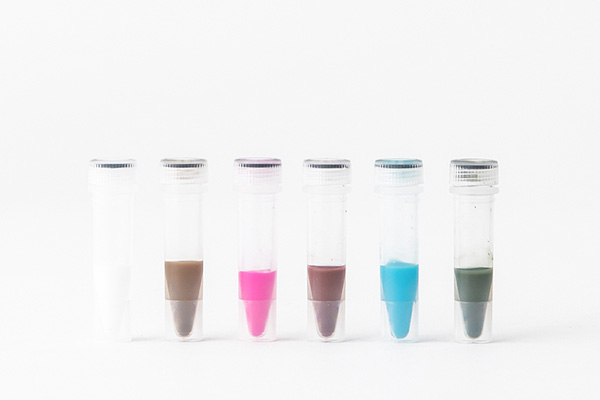 Comparison of FF beads and FS beads
About fluorescent dyes
In the case of Europium
Europium is characterized by a long-life fluorescent dye life and a very long Stokes shift.
In addition, since the fluorescent dye emits very strong light, it can be expected to be used for high sensitivity of in vitro diagnostic agents.
Europium (Excitation(Ex) 340 nm、 Emission(Em) 616 nm)
In the case of Cyanine
Cyanine is a fluorescent dye having fluorescence / excitation wavelength that is widely used in the biotechnology field. It can be used for fluorescent labeling of proteins and FACS.
Cyanine3 (Excitation(Ex) 550 nm、Emission(Em) 576 nm)
Cyanine5 (Excitation(Ex) 650 nm、Emission(Em) 684 nm)
Fluorescent beads lineup
※Please scroll horizontally.
Application example
01. Sandwich immunoassay using FF Eu beads
This is an example of application to immunoassay by antibody immobilized FF beads. Since the FF beads contain plenty of fluorescent dye, the detection sensitivity of them has become higher than the labelled antibodies of the conventional immunoassay. In addition, the reaction efficiency and the measuring speed have been improved by using a magnet for antigen-antibody reaction.
Detection result of the α-fetoprotein (tumor marker) in human serum
02. Immunostaining using FF Eu beads
When staining of EGFR receptors in a xenograft specimen of A 431 human epidermoid carcinoma cell was performed by using FF Eu beads, the similar result to the result of the conventional immunostaining was obtained in a short time.
Conventional immunostaining

Immunostaining using FF beads
Sakamoto S, et al.Clinical Chemistry, 2014,60:4, 610–620,
Protocol

SDS

Papers /
Technical Information

Related Products

FAQ